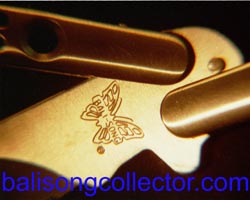 Balisongs And Caviar
A Balisong Collector Special Exhibit


Mokume-Gane is a Japanese art. It dates to about 1650AD. Mokume-Gane literally translates, "wood grain metal." It looks similar to Damascus in many respects, but Mokume-Gane is dramatically different technique.
The Mokume-Gane for these three knife was made by Devon Thomas who is one of only a few artists making Mokume-Gane today and perhaps the only one making it in such large pieces.
Mokume-Gane is a combination of several different metals which is what gives the appearance of different colors. The metal alloys used are specific to making Mokume-Gane and have Japanese names such as Kuromi-do and Shakudo. They are made primarily from copper, silver, gold, and arsenic (remember, arsenic is actually a metal).
The colors and patterns in Mokume-Gane are not painted-on. This is not a surface finish. Like Damascus steel, the pattern in Mokume-Gane is part of the metal. It goes all the way through.
You can read more about Mokume-Gane and the elaborate process used to make it on
http://www.silversmithing.com/1mokume.htm
The process is elaborate and the product is exquisite.
All three of the outstanding custom knives presented in this exhibit were hand-made from Devon Thomas Mokume-Gane and other materials by Pabu Knife of Portland, Oregon.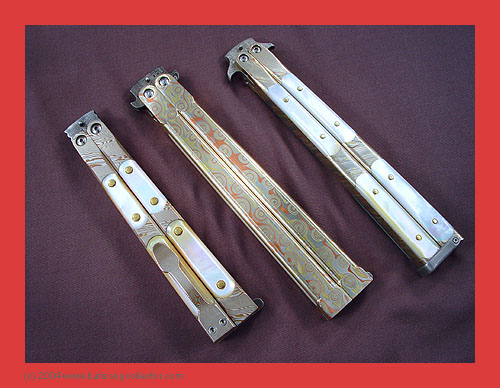 The Pabu balisong on the left is T3-X.
The Pabu balisong in the middle  is C23.
The Pabu balisong on the right is ST3-X.

Click on one of the knives to read more about that knife

Click HERE to see the high-res version of the picture above




---



Custom balisongs from Pabu Knife start at about $300. What about one like the three shown here? Let's just say I know a place where you can have breakfast for about the same price.
If you're interested in commissioning a custom balisong from Pabu Knife, whether it's a simple one or a treasure such as you've seen here, you can begin by e-mailing The Balisong Collector Himself.

---