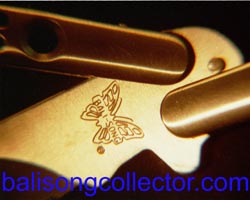 Balisongs And Caviar
A Balisong Collector Special Exhibit


At first glance, the breakfast menu at Norma's Restaurant in New York's Le Parker Meridian Hotel looks just a little expensive. A serving of Buttermilk pancakes is $16. French Toast is $17. And if you'd like a glass of Orange Juice with your breakfast, that will add $7 to your tab. But, this is West 57th Street in Mid-town Manhattan just two blocks from Central Park and just down the street from the Rockefeller Center. It's a pretty pricey place.
if you think $16 is a bit much for pancakes, though, do not order the omelette! It's a THOUSAND DOLLARS!!! I kid you not. Norma offers a $1000 omelette! Even if you do get to enjoy it just a few blocks from Carnegie Hall, a thousand dollars is a lot to pay for breakfast... even in Manhattan. In fact, the menu jokingly adds, "Norma dares you to expense this."
What could possibly make an omelette worth a thousand dollars... even in Manhattan? The answer is that this Omelette is stuffed with lobster meat and ten ounces (283.5g) of Sevruga Caviar.
Sevruga Caviar normally sells for about $80-100/ounce. This uberfood is normally served in small dollops atop delicate crackers or toast points. Ten ounces would normally be fourty to even eighty servings. (As you may have noticed in the picture on the previous page, Caviar Spoons are rather small.) For one person to sit down and eat ten ounces of Sevruga Caviar in one serving -- for breakfast nonetheless -- is a bit opulent... even in Manhattan.
The Caviar of knife-making materials could easily be Mokume-Gane. Mokume-Gane is Japanese. It means, "Wood-grain metal." The making of Mokume-Gane dates to about 1650AD. To this day, it remains a very difficult art and not widely practiced. It's an uberknive material.
Because of its rarity and high price, Mokume-Gane, like Sevruga Caviar, is usually served in small dollops. It's often used as a bolster or insert material or maybe for a little accent. To make the entire handles for a balisong knife from solid Mokume-Gane is a bit opulent... even in Manhattan.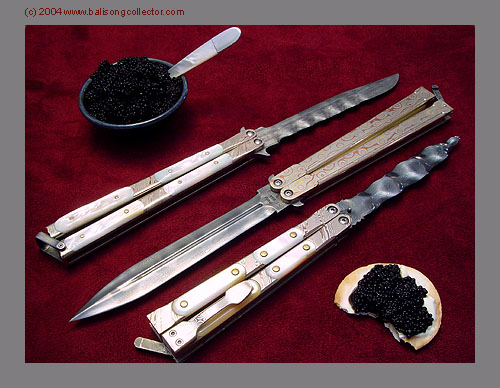 Click on the Pointing Finger to continue.